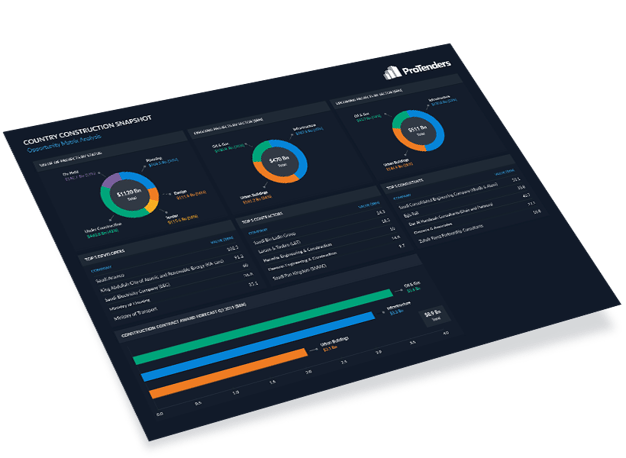 More than 5,564 active construction projects are currently ongoing in Saudi Arabia at a value of $1.1Tn, and the Kingdom's construction market is expected to register a compound annual growth of 6% between 2019 and 2024.

Saudi Arabia sees $91.3Bn worth of contracts to be awarded in Q1 2020, with infrastructure leading the other sectors. The biggest contracts award expected during the quarter include the award of a $705M contract by Saline Water Conversion Corporation for a 600,000 cubic meters per day desalination plant and a power plant located at Shoaiba, a $2Bn award by Public Investment Fund for Neom Residential Development, and a $110M deal awarded to National Contracting Company Limited to build a 380 kilo-watts overhead transmission lines and substation in Alaflaj from the kingdom's Saudi Electricity Company.
According to ProTenders data, the infrastructure sector is the largest contributor to the construction sector expansion, with 1,999 active projects valued at $454.4Bn. The urban sector is the second largest contributor with 3,316 projects worth $451Bn, followed by Oil & Gas with 249 projects valued at $223Bn.

Some of the major infrastructure and urban construction projects in Saudi Arabia include King Salman Park Infrastructure Work ($2Bn), Riyadh King Salman Air Base Facilities ($2.5Bn), Mall of Saudi - Phase 1 ($1Bn), Al Rayis Development ($2.5Bn), Wadi Makkah ($1.1Bn), and Neom Bay valued at $2Bn.

To find out more, access the FREE KSA construction snapshot here.