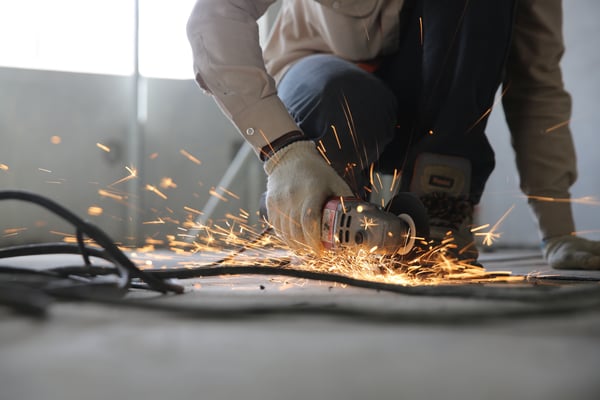 The construction industry is the highest and most significant sector directly contributing to the economic growth, also generating employment opportunities within several sectors like finance, infrastructure, urban construction and oil & gas. Having a strong construction sector with thorough safety regulations in place can help yield foreign investment.
Yet, although the construction industry significantly contributes to economic growth, it can also adversely affect the economy with risks associated to it. From contractual disagreements to lack of productivity and so on, the construction industry faces several risks daily.
Below are the 5 most common risks in construction:


Design Evaluation Neglect


The most common cause of a construction defect is evaluation negligence in design for a project. The role of the construction engineer is to ensure that the design and other aspects like environmental factors are appropriate for the project to be executed. Without thorough engineering evaluation, defects such as a sinking building, or exploding thermal glass due to extreme weather/climatic conditions often occur. This eventually leads to property damage, and a huge payout, although a commercial general indemnity may be in place to protect companies from such mishaps and claims. For example, the crescent structured Vdara Hotel & Spa in Las Vegas unfortunately was termed as a 'Death Ray Hotel'. The unique patterned glass building acted as a solar collector focussing the rays of the sun directly into the hotel's pool area. This defect posed as a major risk causing items to melt as well as guest injuries.

To avoid such defects, pre-qualifying engineers and documenting the construction progress is key. By doing so, developers understand the progress of the project and are alerted of any potential risks in advance so as to be able to make better decisions and take action accordingly.



Contractual Risk
A construction bond includes a solid agreement between the parties by which responsibilities and work undertaken between them are pre-allocated in the contract in respect of risks that may transpire during a project's execution. Risks are defined on three key elements: the product or facility that is to be constructed by the contractor, the anticipated period of completion and the amount due to pay the contractor.

In construction bonds, owners tend to shift the liability of risks onto contractors with clauses that exclude them from being responsible for any risk during the execution of the project. This in turn puts the onus on contractors to bear all liability in case of any accidents to subcontractors. The relationship between a contractor and subcontractor gets challenging when a formal and clear contractual agreement isn't in place.



Delays In Project Completion
According to ProTenders data, the GCC has $854.2 billion worth of projects on hold. In construction, there are several factors that cause delays in projects - from unforeseen challenges like environmental factors to financial instability. One of the most common risks in the Middle East is payment delays. Because the industry relies heavily on paper to manage its processes and deliverables such as blueprints, design drawings, procurement and supply-chain orders, equipment logs, daily progress reports, and punch lists, information sharing is delayed and may not be universal hence making the acceptance process very lengthy and complex.

To tackle these manual processes, construction tech companies like ProTenders are actively looking at solving these problems that cause billions of dollars of productivity loss globally. With digital solutions, the risk of time and inefficiency is mitigated as companies are able to tender, procure and track projects securely online.



Overextension
Another common risk factor in construction is the quality of contractors and subcontractors that you work with. It's always advisable that you pre-qualify your contractors or subcontractors. Having unqualified contractors to work with can be a major challenge to your project. With the increase in demand for work on upcoming projects, general contractors and subcontractors tend to take on more than their capacity, which in turn pose a huge risk - especially on the workforce front where workers are made to work for longer periods. This in turn results in site accidents, less productivity and inefficiency.

As a subcontractor, identify the right businesses to work with and win the right projects

with

these simple tips. And, if you're a developer or contractor, find the right partners to work with and track projects

here

.



Site Protection
Several risks are associated with work on the ground and unattended job sites, from leakages to damage of materials and the like. Projects like tall buildings and towers often are challenging to survey due to limited resources available. With recent advancements within construction tech, solutions such as drone surveying and 3D mapping have been impactful in the case of site surveying and mitigating any risks associated with the work. These technologies track assets, measure and process data on-site thereby progressively minimizing risks. Defects are detected in real-time based on facts and figures, and can be corrected before it's too late.
Each of the risks impact each other and have a trickle down effect in the construction project management cycle. The construction industry worth $10 trillion globally, is slowly adapting to Construction Tech solutions and there is plenty of opportunity for companies, big and small to capitalize on creating solutions to make the industry more productive and safer for their workforce and end-customers.