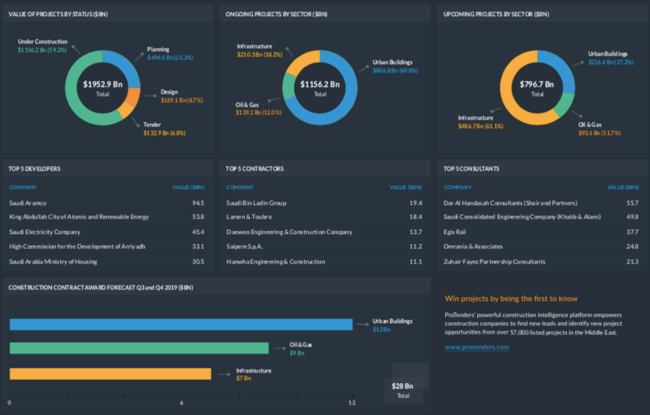 For Q3, Saudi Arabia continues to lead the GCC construction market with a strong pipeline of urban projects worth over $1 trillion. Based on a recent survey by the General Authority of Statistics in Riyadh, the economy saw a slight growth by 1.6 per cent in the first quarter of 2019 as compared to 1.3 per cent in the same period last year. The rapid increase of projects in the kingdom will open opportunities for various jobs - from engineering to workforce and more in the construction market.

This year, Saudi Arabia is heavily investing in urban and infrastructural projects to stimulate the economy and reduce its reliance on oil. According to ProTenders analysis, Saudi Bin Ladin Group ranks top among contractors with projects valued at $19 billion, followed by Larsen & Toubro with projects worth $18.4 billion. The kingdom's contractor awards across the Urban, Infrastructure and Oil & Gas sectors are forecasted to be $28 billion for the rest of the year. The Urban sector is expected to register the highest contractor awards valued at $11.6 billion followed by the Oil & Gas sector valued at $9 billion.
To find out more, access the FREE insights to the KSA Q3 construction landscape here.