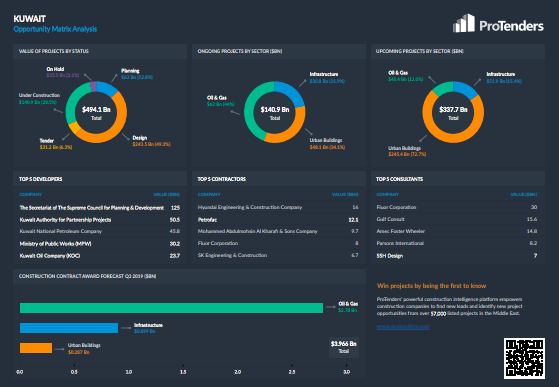 Under the 2035 Kuwait strategic plan, the development of five islands namely Boubyan, Warbah, Failaka, Maskan and Oaha with an investment value of $160 billion is expected to double up tourist and recreational areas, in turn requiring investments in commercial, residential and hospitality complexes as well as infrastructure.
In Q3 of 2019, the construction contractor awards for the Oil & Gas sector ($2.78B) is estimated to be the highest, followed by the infrastructure ($0.899B) and urban sectors ($0.287B).
According to the New Kuwait plan, which calls for over $23 billion in road, rail, and air transport projects through 2022, Kuwait's infrastructure sector is expected to grow by 15-20%, which is in line with the government's current five-year plan (2015-2020).

To find out more, access the FREE insights to the Kuwait Q2 Construction Analysis here .