ProTenders: 2015 Global Construction Survey Report Released
Research shows new technology an important factor for the construction industry to remain competitive
Dubai, U.A.E – 20th April 2015- ProTenders.com, the secure, paper-free online bidding platform for the construction industry, today released their 2015 annual global construction survey.
The report provides insights into the construction sectors pain points, including ways in which firms explores new business, enters a tendering and bidding process and identifies the right construction partner. More than 500 regional and international construction businesses were surveyed.
According to Karim Helal, Co-Founder and CEO of ProTenders.com, "The 2015 Global Construction survey highlights the critical role technology plays in the growth and stability of businesses operating in today's competitive marketplace. The Middle East construction industry is growing at a fast pace and the adoption of new technology stands out as an important factor for businesses to remain competitive.''
Survey Respondents were both regional and international, and included developers right the way through to suppliers.
Two main areas were addressed, the way in which firms sought new business and how they identified the right construction partner, and the tendering and bidding process itself.
The survey showed that the construction industry is indeed picking up pace in the region, demonstrated by the frequency of tenders issued and frequency of bidding, however the tools to manage this growth are not keeping up with demand. If not suitably addressed, this could lead to an increase in the overall operational cost of construction companies and lead to unnecessary delays.
Whilst most companies showed proficiency with the online world; the majority of people cited their website as the primary way they marketed their company; they still relied heavily on offline methods (print media, business development staff) as a way to search, engage and conduct the actual bidding transaction. The survey also showed that existing subscription based construction intelligence services, are the least favored method of finding a suitable construction partner or finding business leads.
The UAE in particular, relies on paper heavy processes with a high HR overhead. Whilst this may not be news for many in the industry, the survey attempts to drill down on the exact pain points to better address companies' needs.
Survey Questions
How frequently do you look for a new partner:
80% of respondents claimed they regularly look for a new construction partner, with just over half saying they are always looking for new partners. Those who are constantly looking identified the need to find the best prices and keep abreast of the latest products.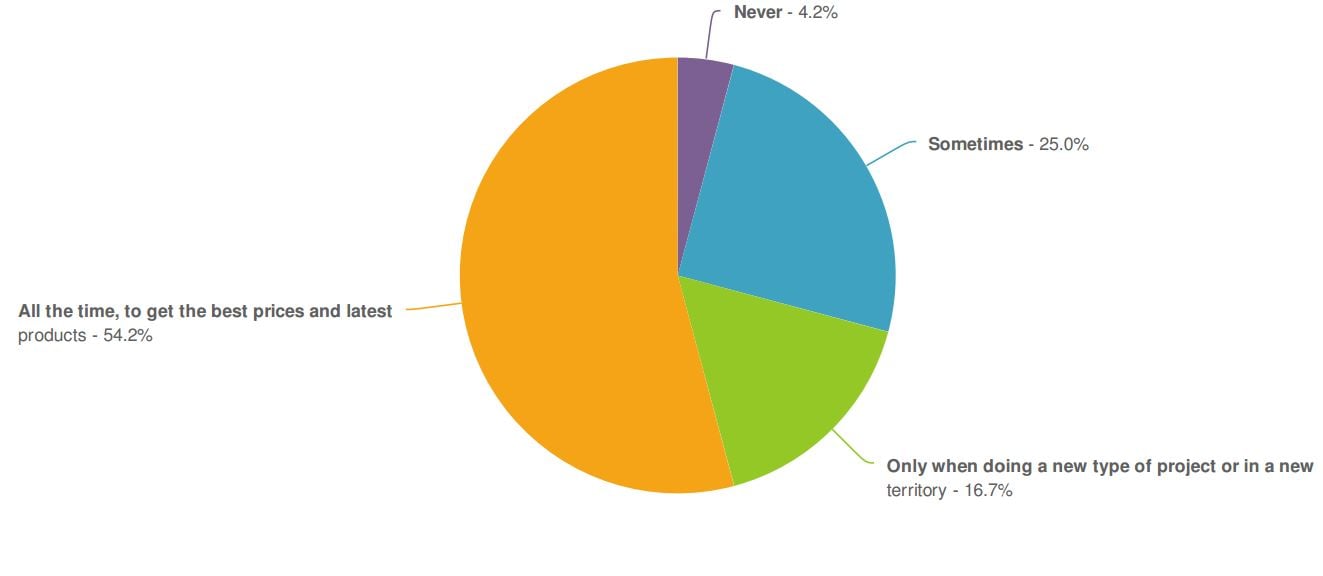 The top 6 factors that respondents used to assess a new construction partner were ranked in the following order:
Types of projects previously worked on
Size and qualifications of team
Past experience with the company
Certifications of Companies
Product range
Location of company
What methods do you currently use to find the right partner?
The majority, (just over 2/3rds) still use word of mouth or recommendations to find partners, 54% use a pre-qualification process and 37.5% use business directories.
Google was used by around 30% of respondents, whereas Construction Intelligence Services and Trade Shows were the least favored options to find business partners (25% and 20% respectively).

Other: LinkedIn and Client Nomination were mentioned
How do you manage the pre-qualification process?
Paper is still king when it comes to pre-qualification documentation. Of those that included pre-qualification as a method of picking a business partner, 62% asked prospects to send in their company profile. 30% had a specific template like a Word document or PDF file that the company could fill in and send back. Just over 7% had an online portal that they asked companies to visit.
How helpful would it be if you had access to a database from where you could search for partners based on very specific criteria such as:
"Find me all piling subcontractors that have worked in the last 2 years on hotel projects in Dubai and Doha with a value of over $100 million" or "Find me all suppliers that provide certified fire cables and are licensed by Civil Defence Authority in the UAE"
We asked how helpful would it be to have a tool that would allow you to search for construction partners with very exact criteria based on project needs and 88% agreed that it would be useful. 63% stressed that this tool would be vital to save time. Over half of the latter portion of respondents originated from the UAE.

Are you actively trying to find new business?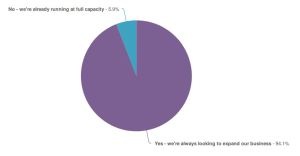 What methods do you use to find new business leads?
Finding new business leads remained firmly in the domain of manpower with 69% saying they had dedicated business development staff. Distributing paper based company profiles (paper based) was the next most popular method identified as a lead driving mechanism. 50% of respondents highlighted print media and trade shows as a way to generate leads. Word of mouth and subscriptions to construction intelligence services were the least used by only 43% of respondents for both.

Other: repeat client base and recommendations were mentioned
How do you currently market your company?
The majority of respondents claimed the company website was how they marketed their company (76.5%), along with a paper based company profile (70%). Just over half said they were also active on social media, and only 35% said they used a digital company profile.

Other: Key Account Manager and Visits to Developer to give company presentation were mentioned
What are your pain points when generating new leads?
Answers were pretty evenly split with just under half of survey respondents saying they had difficulty generating awareness in the market for their products and services and the same amount citing the numerous pre-qualification standards and forms as a problem.

How helpful would it be to have a platform on which you can showcase your company, show your projects and certifications and on which you could be found and automate your pre-qualification process?
88% of respondents said yes. Just under 50% claimed it was exactly what they were looking for. (almost half of these respondents came from the UAE)
How often do you issue tenders and RFQ's?
For those issuing tenders, 20% issue 1 – 10 times per year. 78% (the majority) issue an RFQ at least once a month (57% issue 20 or more tenders per year). The UAE was the territory where tenders were issued most frequently, 40% of respondents issuing 20 or more per year came from there.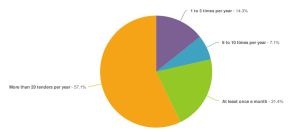 How do you distribute your tenders?
Typically the RFQ's will be sent over email. 85.7% of respondents said they used this method. A separate ProTenders survey on digital communication demonstrated that many Construction SME's did not have a work email address, many were using Gmail, Yahoo, Hotmail or email services provided by the local telecom operator.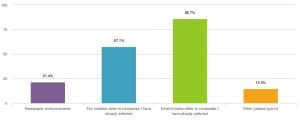 Other: through ProTenders or through specialist project management software
How do you manage and process tenders?
Whilst the majority of respondents send the tender via email, they tend to receive and manage the incoming bids on paper (71%). 2/3rds of these respondents came from the UAE. 14% had their own in-house software where companies could submit their bids on (half of these respondents came from India) and 7% employed a full ERP solution from Oracle or SAP etc.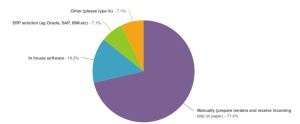 What are the pain points during tendering?
Perhaps not surprisingly, when asked about pain points during the tendering process, the amount of paperwork involved and collecting the bids were the top identified issues with 86% of respondents for each of these issues. Information synchronization and easy amendments to documentation came second for 78.5% of respondents.

Other: getting contractors that are unused to a web based platform to use it, along with poor quality contractors and legal issues were mentioned.
Would you be interested in moving to an automated system to manage your tenders?
90% of people overall would be interested in moving to an automated system to manage their tenders. 50% said their decision would be based on ease of use (UAE respondents tended to prioritize this variable) 30% said it would depend on security and only 10% would use price as a deciding factor.

How helpful would it be to have a secure, paperfree e-tendering platform that would allow you to centralize all your data, receive information in a consistent format and easily compare incoming bids with beautiful graphs and charts?
Further detail was requested about what the ideal tendering portal would look like giving examples from the ProTenders platform, all respondents said it would be helpful. 57% were extremely enthusiastic about this option.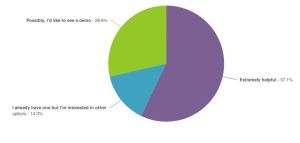 How often do you submit bids?
One third of respondents submit bids 1 – 10 times per year. The majority are submitting at least one or more times a month (66%)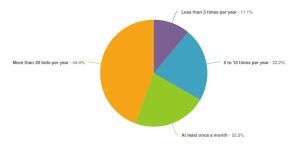 How do you submit bids?
100% of bidders have submitted bids in paper format. Only 2/3rds have submitted on a tenderer's portal and 55% reply via email.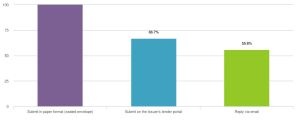 What are the pain points during bidding?
Pain points identified during bidding matched those issuing tenders. The most popular issue was difficulty in gathering the required documentation (chosen by 78% of respondents). 66% of respondents equally pointed to getting responses from own suppliers, inefficient communication and learning the formats of different tendering portals being an issue.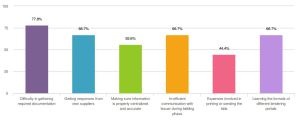 How helpful would it be to have one online bidding platform that would remove printing costs, synchronize information instantly and allow you to publish once and submit to multiple tendering portals?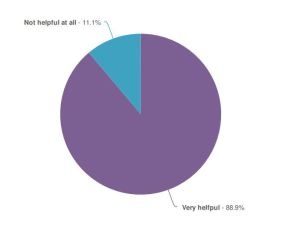 Summary:
The regional construction industry is growing at a fast pace. Most firms particularly in the UAE are actively seeking new business leads and many are constantly on the lookout for new construction partners. Construction companies wishing to reduce risk, prioritize having access to the right information when looking for partners. These must include project history and team structure.
People and paper are the two most costly elements of information gathering and distribution. In order for construction companies to be successful they need to be able to search for partners at scale and be able to process the increased amount of documentation in a much more efficient manner.
Time is crucial, particularly so with 2020 deadlines for the UAE and 2022 deadlines for Qatar. Companies that spend more time on the information gathering and processing phase are severely impacting their ability to meet these deadlines. This is a particular worry for general contractors as they are assuming more and more risk.
The right technological solutions can solve all these problems if designed in a manner which meets construction companies' specific demands and can be readily adopted. SME's which make up the majority of the market prioritize ease of use with new technology over price. All companies make clear that standardization, ease of use and timeliness are key factors.
ProTenders.com is a technology solution that reduces risk and automates processes that allows construction companies to answer 2 key questions, which are "who should I work with?", and "how much should I be paying?"
ProTenders is a cloud based B2B software that allows everyone in the construction value chain to create a rich company profile, showcase their past projects, list their team members and qualifications, highlight the certifications of their companies and more. It provides a consistent format by which companies can judge the suitability of a potential partner. The search functionality allows quick location of businesses by value of projects worked on, type of business activity, geographical presence and area of expertise.
Once a suitable partner has been found, ProTenders.com provides a paperfree tender issuing and bidding module, allowing the issuer to engage potential bidders directly on the platform, issue a Smart BoQ and to easily compare incoming bids with easy data visualizations and graphs.
ProTenders.com can save an average of 3 weeks from the bidding process time and eliminate all paperwork costs, generating increase ROI from existing human resources.
ProTenders.com is a secure, paperfree bidding platform for the Construction Industry. As a cloud based SaaS platform, members can access from anywhere to search and engage with potential partners and bid on projects. Trusted by hundreds of companies to process over $12.4 billion of bids since 2009 and winner of the best eCommerce solution by the WSA Awards, MENA ICT and Internet Awards in 2011.
To find out more, visit www.protenders.com or email atohme@protenders.com