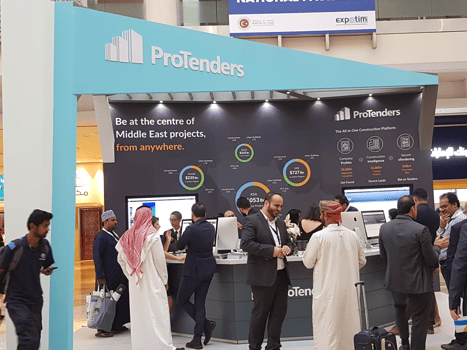 The Big 5 portfolio is known across the region as the largest series of construction events, and culminates with the gathering of 65,000 construction professionals under one roof during the Big 5 Show in Dubai each November. This year's Big 5 Dubai edition, was yet another busy event, and saw one major addition to its roster of prestigious sponsors and exhibitors - ProTenders, the award-winning all-in-one construction platform.

With 35,000 companies, and 51,000 projects across the region featured on our platform, ProTenders is a natural extension to the Big 5 show, by enabling companies to identify the right partners, project opportunities and construction products, at anytime, anywhere.

In case you missed connecting with us at the event, here are 4 key highlights of our participation at The Big 5.
1) Gold Sponsor and Exhibitor
We were excited and proud to be a Gold Sponsor and exhibitor at the Big 5 event held at the Dubai World Trade Centre, with the theme Be at the centre of Middle East projects from anywhere. Our stand location near the entrance in the main concourse and our ubiquitous branding around the venue, showcased ProTenders as one of the highest profile companies at the event, that attracted the most number of visitors. (Here's a 3D virtual tour of our stand by our friends over at BIMObject.)
2) Thousands of conversations with Customers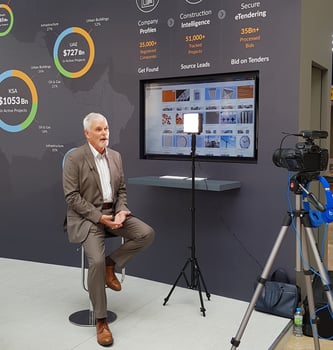 The opportunity to connect with several existing customers such as Sylvania, Pinnacle Interiors, Reem Readymix, CBE, in addition to engaging with thousands of contractors, manufacturers, suppliers and consultants from around the world to discuss how we could work together, added to the buzz and activity at the stand. We captured testimonials from customers Michael Guy, Director and Founding Partner at The Glasshouse, a UAE-based speciality glass designer, manufacturer and installer, and Abhishek Chhabra, Market Development Manager at Thomas Bell-Wright International Consultants, a UAE founded leading engineering firm providing independent quality assurance and testing services.
3) Key Partnership between ProTenders and Abu Dhabi Quality and Conformity Council (QCC)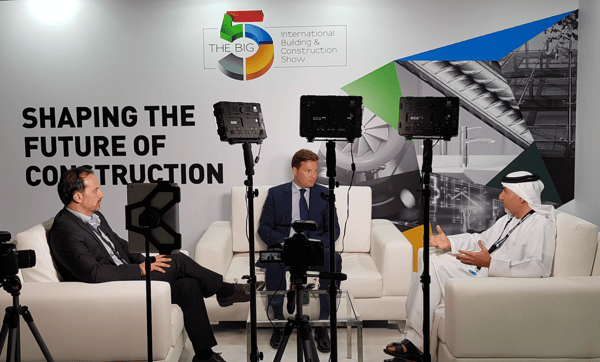 Without a doubt, one of the key highlights of ProTenders' participation at the Big 5, was the announcement of a key strategic partnership between ProTenders and Abu Dhabi Quality and Conformity Council (QCC), whereby all QCC approved products will be showcased on ProTenders' platform. Read the press release which describes the partnership in greater detail.
4) GCC Construction Report Q4 2018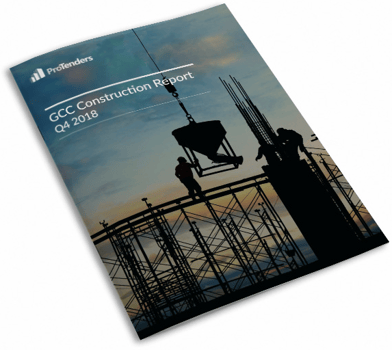 We also launched a free GCC Construction Report at the event, which covers $3.24 trillion of GCC projects across the infrastructure, urban buildings and oil & gas sectors. If you missed it at the event, you can still access the free report to see the pipeline of projects yet to be awarded across the region and sector until Q2 2019.

In conclusion, the event was a huge success for ProTenders thanks to every visitor who made the time to stop by. We truly enjoyed meeting customers and learning about their goals and business challenges, even if it meant doing demos while other exhibitors were leaving. (If this picture is any indicator, you can rest assured that our team at ProTenders will always ensure you've got what you need to make your job easier.)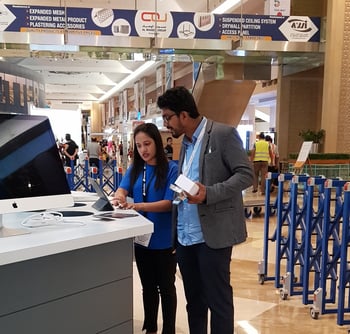 ----------

ProTenders is the leading Construction Intelligence & Tendering platform, empowering thousands of Developers, Consultants, Contractors and Suppliers around the world to reduce risk, showcase their companies, and find new leads and partners, securely and efficiently. ProTenders has over 35,000 member companies and 51,000 listed projects, and has processed over USD 35 Billion worth of bids.
Get in touch with us to see you can win Middle East projects in 2019.