ProTenders has just released a new version of our platform including the first part of our enriched company profiles. Better than a simple entry in a business directory, our profiles let you add a wealth of construction-specific information to serve as a real marketing tool for your company's business development.
Additionally, we've improved navigation, making it drop-down to enable our users to access and update their information and settings more quickly. With features that save you time for both operations and business, ProTenders continues to help you buy better and sell more.
Show off your advantage
If you want to be invited to bid, you have to be visible to project owners and developers. The more they know about you, the better they are able to evaluate whether they want to work with you. Of course, those companies with great track records, who've worked on the right types of projects, who can show they have the right certifications, and who have even won awards, will stand out from the crowd.
ProTenders has made it easy to display all this information in a way that is easy to access by potential customers. Each company entry presents three tabs: Profile, Portfolio, and Team. Let's take a look at each tab in turn.
Your profile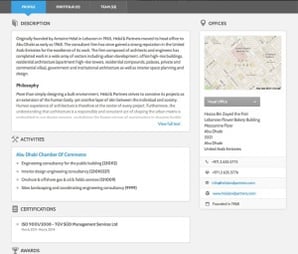 Tell your potential customers who you are as a company:
The description allows you to tell your story, including your vision, mission, history, and values, or whatever information you want. No longer will interested parties have to search your website to find out what sort of a company you are. If you already filled this in in our previous database, the information will still be there. Why not take the time now to check whether it's up to date and as complete as you would like?
The activities section is also still filled in. If you've updated your trade licence and have new activities to add, please submit your new documents so we can modify your record.
Our interface allows you to easily add certifications you have acquired, and to keep them updated. What better way to start building trust with potential partners?
For those companies who have been recognized in their field, it is easy to showcase awards. You can list them, and link to the websites that explain what they are.
With clearly presented address and contact information, and an interactive Google map, your potential customers can easily see where your offices are located.
Your portfolio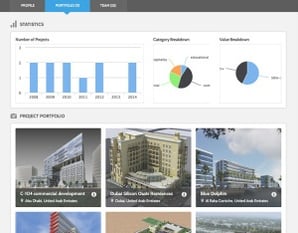 Make your company shine with our project portfolio. You can easily:
List your most prestigious projects
Provide details such as the type of project, the type of area and the budget
Indicate what work your company carried out
Upload a photo that best illustrates that work
Your team

Make it easy for potential customers to see who counts in your company:
List your key personnel, in particular those your potential partners, whether customers or suppliers, need to contact.
Inspire greater confidence in your company's skills by listing the different specializations of your staff, and show where they're situated.

Start building your profile and your network today. Log in to access your new enriched profile.