A few weeks ago, we told you we'd be introducing simplified pricing that reflects how our customer base has changed. As we've grown, we've found ourselves supporting a wider range of companies, with not only different, but also evolving needs with regard to the ProTenders platform.
Our new plans adapt to the size and scope of your organization, whether your goal is to improve tendering efficiency throughout your company, to get a full understanding of your commercial operations, or just to expand your online presence with a view to building your reputation.
Plans that reflect your strategic goals
We've therefore remodelled our pricing structure so you can meet your goals whatever the size of your company, and pay only for what you need. Here's how they work:
Note: If you're an existing customer, please read to the end to see how this affects you. If you're a charity, an NGO or involved in education, please contact us to find out how to benefit from ProTenders for FREE.
1. Choose your package according to your goals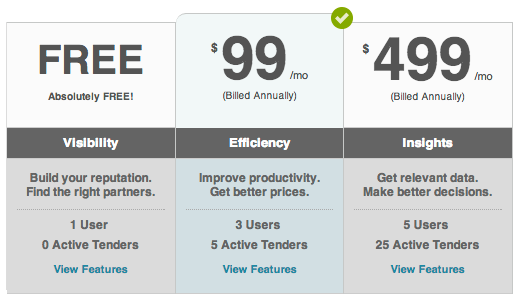 Depending on what your business goals are, ProTenders has the right package for you:
Visibility: With free access to our company database, you can build your profile, showcasing your skills and specializations, and enable potential partners to contact you. You can also find the partners you need.
Efficiency: Manage all your tenders, from selection of vendors and validation of documents, through issue, sub-tendering, bid, and awarding of contracts, on a single platform.
Insights: With additional tender flow options, detailed data that help you better evaluate suppliers and their bids, and detailed reports to track your company's performance, you have the tools and information you need to make better decisions.
2. Add licences to exactly match your needs
Each plan comes with a default set of Users and Active Tenders that is well suited for most businesses. However, should you need more users or concurrent tenders than the default plan provides, you can easily add extra licences by moving each of the sliders. Additional users and tenders can always be added at any point in the future.
3. Choose your Support Plan

Choose the access to support that is most appropriate for your organization. As a rule of thumb, the greater the number of tenders you manage, the more important it is to get the responses you need as soon as possible.
What about our existing customers?
Our existing customers benefit from the new plans as well. Those that have been on the Basic plan have been migrated to the Efficiency plan, which has the same number of users. However, instead of only one tender included, you'll now be able to manage 5 at a time.
All other plans will be automatically updated to the Insights plan. This plan includes 5 users but, to stress how important our existing customers are to us, we're honouring the number of users specified in your current plan at no extra cost.
For any questions regarding these plans and how to upgrade, contact us.