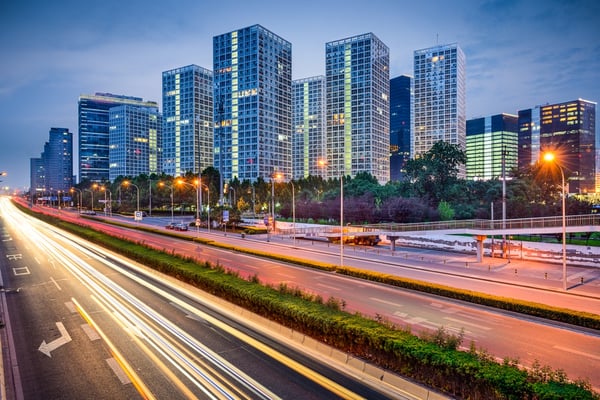 As China celebrated the lunar new year on 05th February, it is estimated more than a billion people ushered in a period believed to be symbolic of optimism, enthusiasm and hard work. In this weeks blog we look at what impact China's economic slow down means for the Middle East construction industry and what balance of optimism and enthusiasm versus hard work we can expect.
Historically known as a domestic celebration, the Chinese new year in the 21st century can almost certainly be called an international one. With fireworks, parties and parades taking place around the globe, many of the world's most recognisable buildings were illuminated red in honour of the Spring Festival and the Middle East was no exception.
With numerous celebrations taking place across the region, Dubai appeared to lead the way in terms of sheer scale with the city's Burj Khalifa showcasing a special laser show to mark the occasion, and if an increasing embrace of global culture wasn't a good enough reason, acknowledging China's influence in terms of trade, investment and tourism certainly would be. Thanks to its astonishing demand for commodities in combination with an aggressive foreign direct investment strategy, China has become a strong partner for many countries, particularly those along the newly revived Silk Route, but none more so than the Middle East where it remains the single-largest foreign investor, estimated at $30bn. When it comes to construction, the story remains the same with the Middle East retaining the title as the number one destination for new China-backed construction projects with Egypt and the United Arab Emirates being the current favourites.
In addition to general investment and projects, the Middle East and China have been committing to various longer-term industrial partnerships, most recently a $300m deal between Abu Dhabi Ports and Jiangsu Provincial Overseas Cooperation and Investment Company, to develop a manufacturing hub in Khalifa Industrial Zone Abu Dhabi (KIZAD). As a result one of the firms involved, Hanergy Thin Film Power Group has since signed an MoU on 3rd February 2019 as part of the launch of the National Industrial Development and Logistics program to develop an unspecified number of renewable energy manufacturing hubs in Saudi Arabia, including at least one $1bn solar park. Other developments to spring from the KIZAD deal include a Chinese tyre manufacturer, Roadbot which is expected to create up to 1,200 new jobs, playing a key role as part of the UAE's economic diversification strategy.
When it comes to playing a major role in terms of companies and boots on the ground, China is most certainly present. According to ProTenders' most recent data, Chinese contractors are tied to 115 active projects across the MENA region, having delivered 119 in the past decade. While the scale of the projects vary, the top ten highest value projects currently being built come to an aggregate of $55bn. Projects in this list include The Capital Cairo City, Mohammed Bin Rashid Al Maktoum Solar Park (Phase 4), and the Daba Port new wharf.
Where sectors are concerned, just over 40% of the total active projects are residential, followed by just under 20% for hospitality and oil & gas respectively. By far, the most active contractor is China State Construction Engineering Corporation whose global revenues in 2017 exceeded $114bn and whose recent regional projects include the National Bank of Kuwait's headquarters, the Emirates Road for the RTA and the mechanical and steel works for Abu Dhabi's Midfield Terminal.
While the region has so far enjoyed the upside of being integrated with a giant such as China, there is of course a potential downside should the giant 'catch a cold'. According to data published in January 2019, China's overseas investment and construction projects were down more than 35% in 2018 when compared to the year previous and some economists believe financial strain will start to slow Beijing's global trade and infrastructure programmes.
Caterpillar's 8% drop in its overall Asia-Pacific regional sales in Q4 2018, which contributed towards 9.1% share slide following the announcement of missed Q4 earning estimates is a good example of the kind of impact China's economy can have on even the most sturdy players in the market and it's in this lesson we can understand the wider repercussions for the Middle East.
The kinetic effects of China's decreasing demand in combination with its on going trade talks with the United States will inevitably cause disruption for the global economy and there is some likelihood that investments made into the construction market in the Middle East may change or be put on hold. This being said the Middle East, in particular the GCC while exposed to China still retains strong commercial ties with other Asian powerhouses such as India, South Korea and Japan so while some knock on effects are inevitable, the region is certainly better positioned to weather any economical headwinds more effectively than those economies who've come to view China's demand as being sustainable.