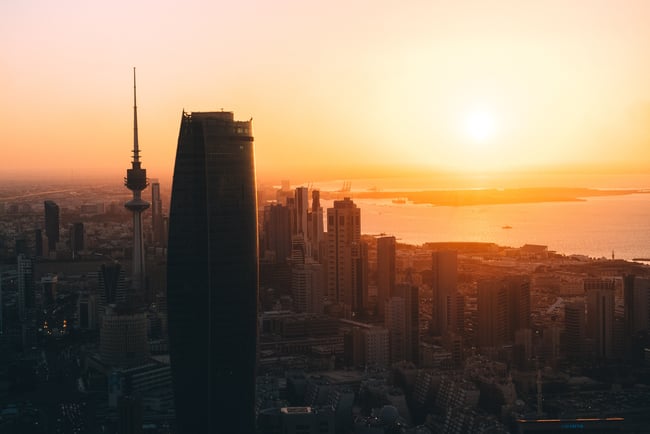 In coordination with our participation at this year's Leaders in Construction Summit Kuwait, ProTenders offers an insight into the country's construction sector and looks at some of the key projects that are contributing towards its long-term development strategy.
Certainly, if there is one focal point of conversation during this year's
Leaders in Construction Summit Kuwait
, it will be the progress of the National Development Plan. Dubbed as 'New Kuwait', the KNDP was launched in Q1 2017 as a strategic blueprint designed to position the country as a "financial, cultural, and institutional leader in the region," which it aims to achieve by meeting several key objectives identified through seven strategic pillars. In understanding the topics of the seven pillars, namely global position, infrastructure, human capital, public administration, healthcare, economy and living environment, it is clear to see the central role construction plays and how the timely planning and execution of projects will be instrumental in its successful delivery.

As way of measuring the success of the strategy, each of the pillars contain a high-level target, specifically allocating an extra 1.5% of its GDP for humanitarian assistance, delivering 13 new colleges with capacity for 40,000 extra students, producing a further 8,000 hospital beds, increasing its reliance on renewable energy by 15%, increasing investment in infrastructure by 11%, enabling the establishment of a further 3,500 small businesses and enhancing its bureaucratic processes to deliver business licenses within 20 days. As an additional benchmark the Kuwaiti government is aiming to be ranked globally in the top 35% in all indicators by the plan's hard deadline in 2035.
Since 2009, ProTenders has focused on three core areas of business within the Middle Eastern construction market; firstly offering companies a way to showcase their team, projects and products, secondly providing data and intelligence and finally, providing an online tendering platform that facilitates an efficient method for developers to view, pre-qualify and invite fully-authorised companies to private tenders.
While Kuwait may not have the numbers in terms of volume to compete with the flurry of activity in the UAE or Saudi Arabia, the status of its construction market, in particular the general rate of progress on its flagship projects illustrate a positive trend of consistency and progress. Of the 840 projects listed on ProTenders, just over 37% are under construction, 27.7% have been completed and a further 27.5% are either in planning, design or tender stages. By taking a closer look at four of the seven pillars where construction will play an intrinsic role, there is further evidence that 'New Kuwait' is on track.
Education
Amongst the 42 educational projects registered on ProTenders, seven have been delivered in the past 12 months, ten are under construction and a further 11 are either in planning, design or tender. Out of these projects, the major contributors towards 'New Kuwait' would have to be the various departmental projects of the Sabah Al Salem University City, which include the College of Architecture, and the College of Computer Science and Engineering (CCSE) which have a combined area of 44,324 square metres. There are also the Health Science Campus, College of Engineering & Petroleum, College of Science and Faculty Club, Academic Support Facilities, Administration Facilities and Sports, Athletics & Aquatic Facilities which provide a combined value of $3.21 billion in upcoming projects.
Healthcare
Medical-focused projects are a major area of interest for many GCC countries and Kuwait is no exception. Having delivered 59 healthcare facilities since 2008, there are currently 16 under construction, which vary from general hospitals to specialist facilities. At the forefront of these projects, in particular as a contributor towards 'New Kuwait' is the Al Sabah Hospital Expansion - valued at $619m it is anticipated to be delivered in Q2 2019.
Currently in design are the Ibn Sina Hospital Expansion and Jahra Medical Complex while the Al Shuwaikh New Children's Hospital is highly anticipated, not only for its extensive facilities that extend to 792 beds, equipped with the latest state-of-the-art facilities, but also its striking futuristic design that incorporates both technology and energy conservation. In planning is the Gustave Roussy Cancer Research Centre, which is scheduled for delivery in Q4 2021.
Renewable Energy
Arguably the most significant project, which will support the government's target of delivering 15% of its power from renewables by 2030, is the Dabdaba Photovoltaic Power Plant. Designed to produce 1.5GW from the Al Shegaya Renewable Energy Park, approximately 100kms to the west of Kuwait City, this 32 square kilometre plant will save burning 5.2 million barrels of oil a year and reduce carbon emissions by 1.3 million tons annually. As of now the tender is open and scheduled to close on 16th December.
In addition to Dabdaba, ProTenders currently has 23 energy-based projects on its platform, of which more than 50% are renewable projects valued at just under $7 billion.
Infrastructure
From roads, to bridges, from water treatment plants to seaports, ProTenders currently hosts 74 infrastructure projects that are in between planning and construction. Certainly the most high profile project that is close to completion is the Sheikh Jaber Al Ahmad Al Sabah Causeway; a mammoth 36 kilometre causeway of which 27 kilometres is a marine bridge structure. In addition to the highway, the project also includes a Visitor Centre, a Causeway Main Administration and Management Building for MPW on the Shuwaikh side and two artificial islands of 30 hectares at either end which will house maintenance and traffic emergency buildings, fuelling stations and marina facilities.
Unquestionably there will be much to talk about at this year's summit and we look forward to keeping our members informed on the latest project updates as and when they happen.
_________________

For further information on how ProTenders can provide you with valuable insights into the Kuwaiti or Middle Eastern construction markets, or how we can digitize your tendering process, please contact us.