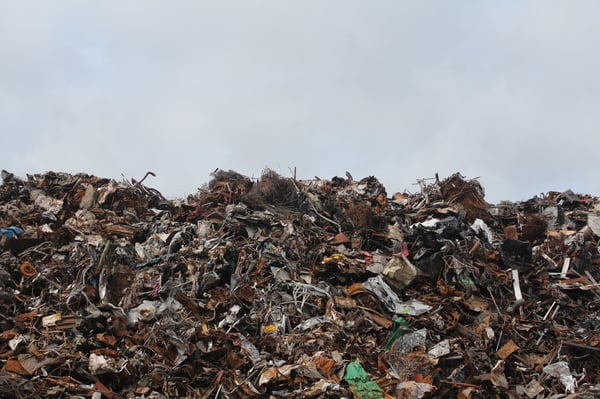 Waste generated by construction does not just have a massively negative impact on the environment, it also comes with a huge economic price tag. According to a World Bank Report, construction waste from building materials accounts for half of the solid waste generated annually. Therefore, it pays for regional and global players in the construction industry to examine their waste disposal methods and make significant changes to create more sustainable ways of working.
While the cost of waste varies from country to country, one thing remains constant - the costs continue to multiply. The construction industry remains one of the biggest culprits to waste contribution. In 2012, 1.3 billion tons of solid waste was created, and this volume is expected to increase to 2.2 billion tons of waste per annum over the next seven years until 2025. Globally, countries are drafting policies to increase recycling of construction waste, and various certifications, such as LEED (Leadership in Energy and Environmental Design) have been put in place to encourage the proper management of construction waste.
This trend is mirrored throughout the GCC region as well. According to a report by Frost & Sullivan, the total waste generated in the GCC was predicted to increase from 94 million tons in 2015 to 120 million tons in 2020. GCC countries are undertaking legislative action to create effective management of waste in construction, and also meet their own sustainability goals. Abu Dhabi's Tadweer has developed the Waste Management Master Plan, which proposes to reduce commercial and industrial waste, especially that created by construction and demolition in a bid to position the emirate as a global leader in waste management.
Having said this, there are still many barriers to proper waste management including lack of standardization across the region, low margins, and lack of both, awareness and resources. The approach to sustainability in our region presents an interesting challenge for industry players, particularly due to the harsh weather conditions - however, there is still an incredible opportunity for the sector to positively address these challenges and make a transformational leap in sustainability.
We have listed three waste disposal techniques that your construction business can begin applying today, to enhance environmental sustainability and positively impact the bottom line.
1) The four Rs and a D
Reduce, reuse, recycle. These three Rs are the primary tenets of recycling and adopting sustainable practices. In construction, these principals become equally important in adding to the sustainability agenda of the company and the country in which industry activities occur. In addition to the three Rs, construction industry players should also add 'recover' - can waste be incinerated to use the energy stored within it? - and 'dispose' - with the most undesirable and last option being the landfill - to fully encapsulate a sustainability agenda.
2) Segregate waste
Due to looming deadlines and budget restrictions, a proper waste management plan is indispensable in this industry. The average construction business generates 100 metric tons of waste each year - and each ton that goes to a landfill incurs additional costs to your business. However, up to 90% of the waste generated by construction can be recycled. With this in mind, segregating your waste is one of the most economically viable ways to address waste management enabling you to recycle larger amounts and send less waste to a landfill in order to deliver financially tangible results.
3) Call in the experts
Any construction project requires the coordination, collection and management of waste. This can be a daunting task for a business, not only looking to meet waste management targets, but also having to deal with a variety of waste including hazardous waste. This requires additional attention to detail; thus, hiring a professional waste management company will enable you to better plan your material usage, ensuring the correct storage options and training your staff to follow the correct guidelines. Such a partnership will also ensure that your company benefits from reduced OPEX and higher recycling rates across a variety of projects.
Implementing waste disposal strategies throughout your business to minimize waste and dispose of it in a more environmentally conscious manner, will empower your construction company to reduce its carbon footprint, reduce overheads and increase profits.