Since the launch of our Company Profiles, Construction Intelligence & Product Catalogues modules in 2016, ProTenders' data and traffic grew exponentially, quickly becoming one of the leading information sources for anything Construction in the region.
Less than a year in, the platform now enables 19,000 companies to market themselves and be found by potential partners, actively tracks 15,000 projects of all sizes, sectors and locations and is visited 300,000 times per month, an increase of 600% in the last 16 months, from 105 countries.

Having vast amounts of data about an Industry is certainly important, but making it quickly and efficiently searchable is key in order to provide value to companies who depend on it to plan their next move or close their next deal.
In response to this increase in search demand, we are happy to officially launch our ProTenders Real-Time Intelligence module, providing the fastest way for local, regional and international developers, consultants, contractors and suppliers to find the exact partners, products or projects they need, every time.
What is ProTenders Real-Time Intelligence all about?
What if you were a contractor and wanted to find the exact project that matched your requirements, including name, type, location, budget, name of participants or status? You now can, and it only takes a few seconds, all from the comfort of your office.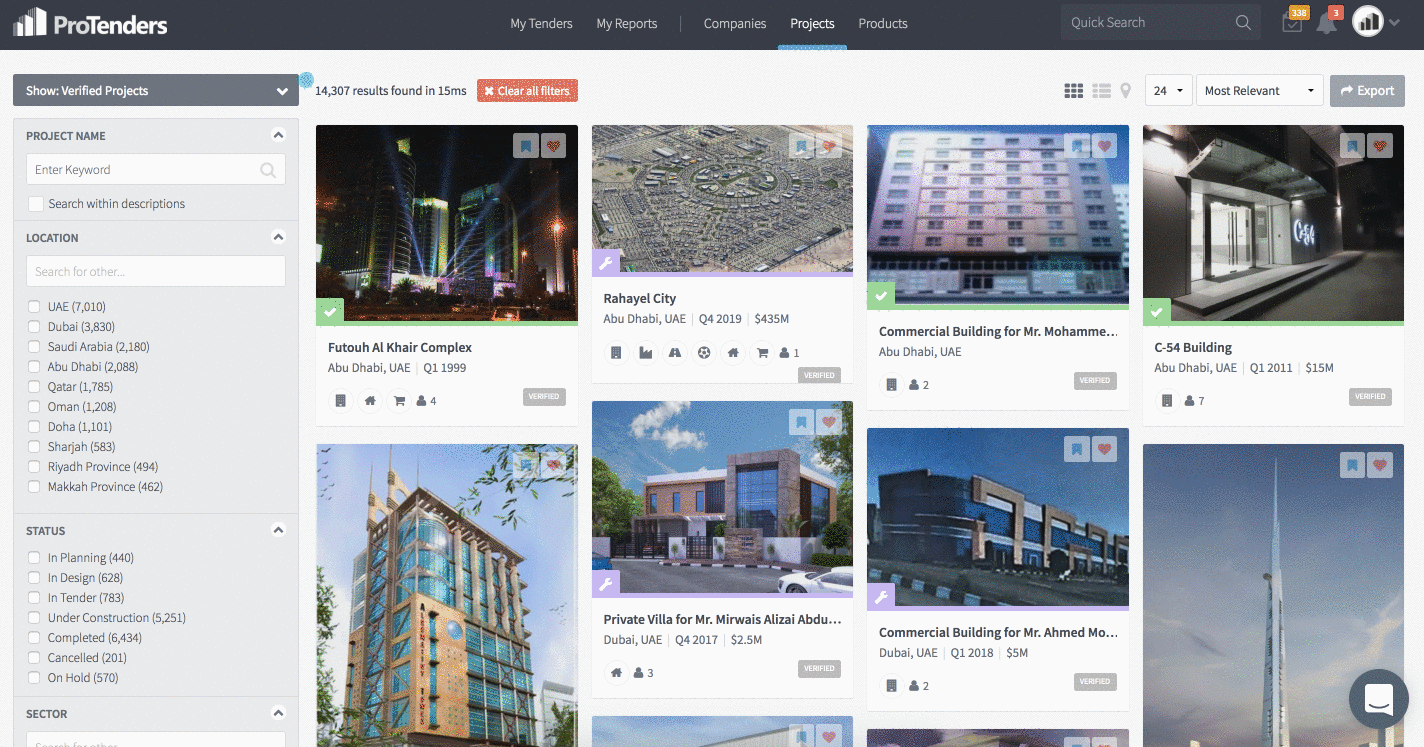 What if you were a supplier, wanted to have your products featured in one of Emaar or Damac's projects and thus needed to find a way to connect with the right consultants who work on their projects? You now can, and it takes 4 clicks and less than 1 minute.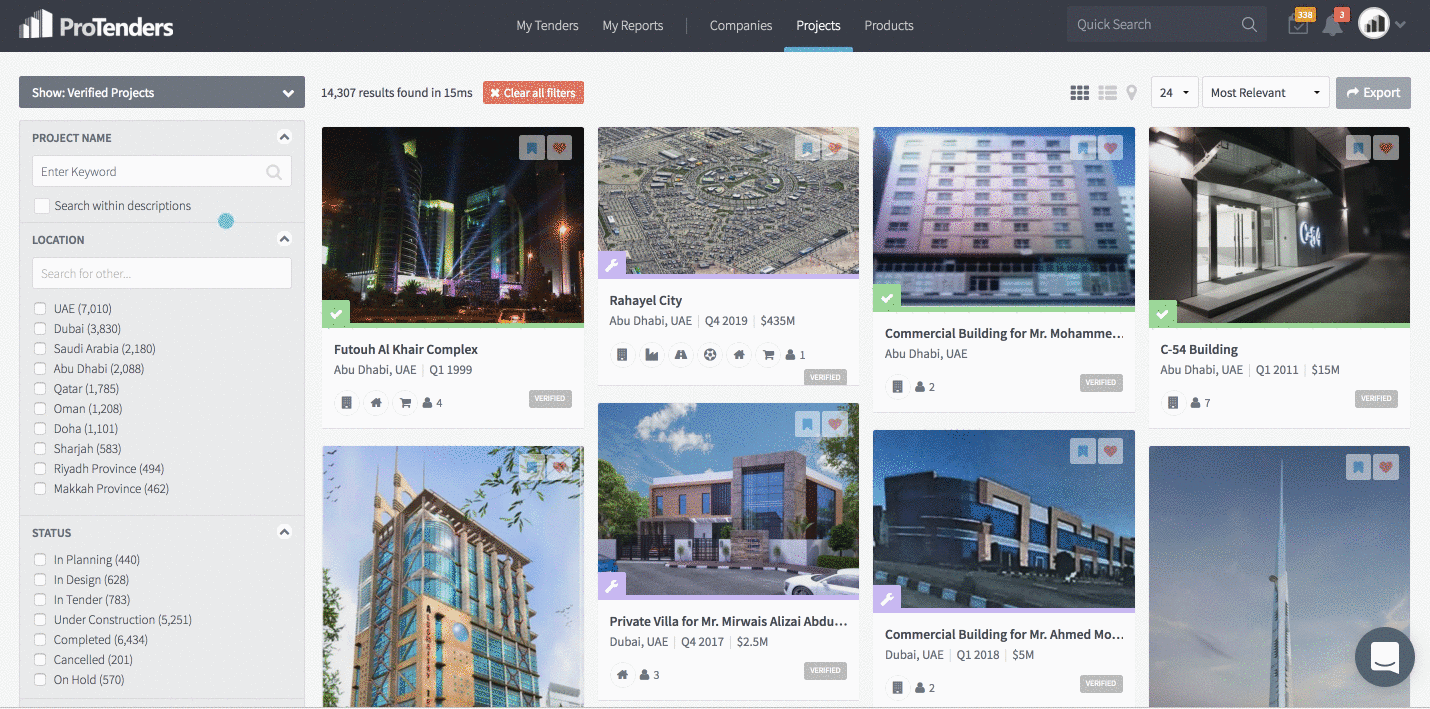 Finally, what if you were looking for the an MEP Consultant that has experience in Hospitality projects in the UAE or Qatar?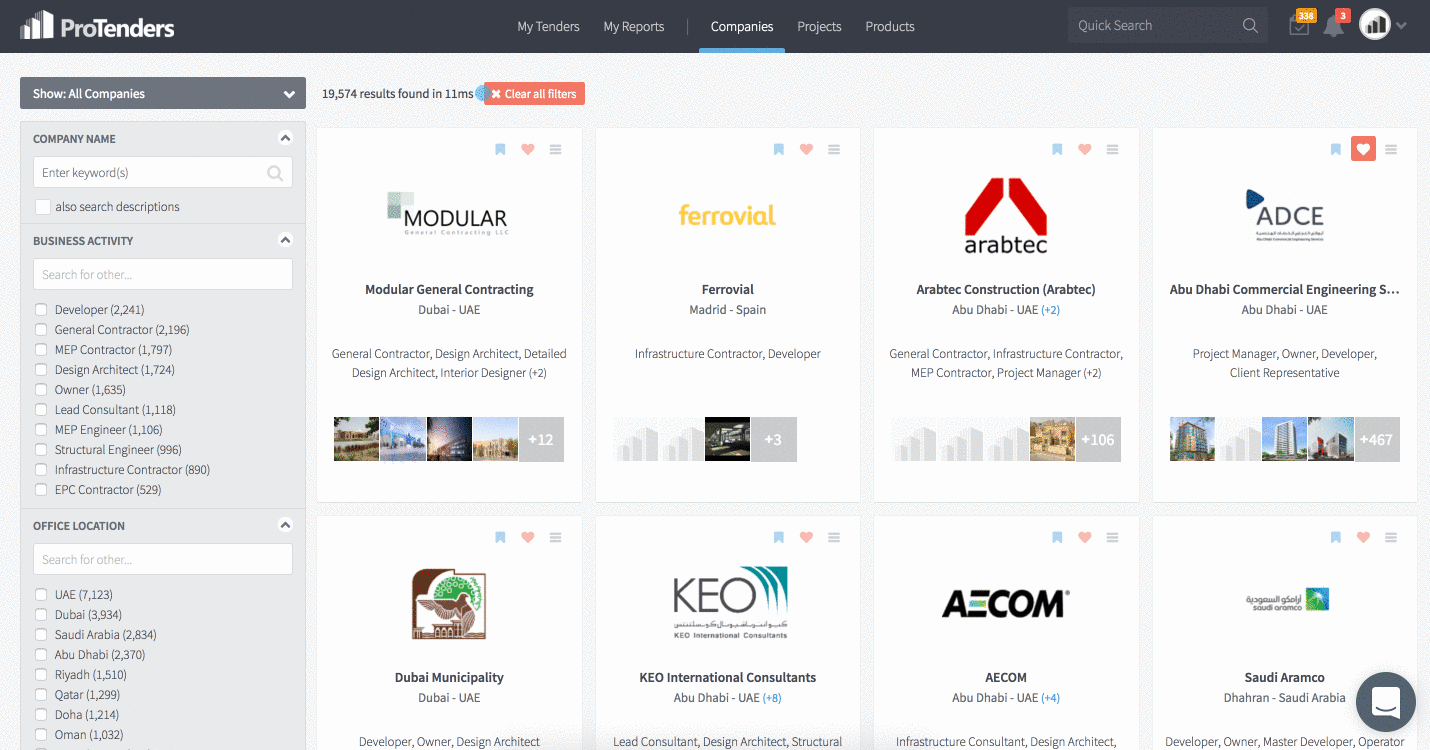 Freshly Launched & Already Making a Difference
ProTenders' Real-Time Intelligence helps companies of all sizes, types and locations answer between 8,000 and 16,000 questions like these every single day, providing the answers in an average of 2ms.


Whether you're looking for ways to grow your construction business, expand to new markets, find new products and partners, or streamline your tendering process, ProTenders is the only platform you'll need.