As an integral player in the development and progress of the global construction market, we at ProTenders are proud to play our part in making this region of the world one of the most sought-after destinations to live, work and play.
Our award-winning e-Tendering solution for the construction industry has thus far facilitated close to $20 billion in successful bids since its launch, and has won multiple local, regional and international awards along the way. However, things have changed since our original launch - as is the case with most things in our dynamic and ever-evolving neck of the woods.
ProTenders has evolved from an e-Tendering solution to become a 360-degree construction business growth platform that includes the much utilized Company Profiles feature, which allows construction concerns (suppliers, consultants, contractors, subcontractors and developers) reach a far wider market and find ideal partners with which to collaborate.
We've helped companies of all sizes get more visibility than ever - 780k hits.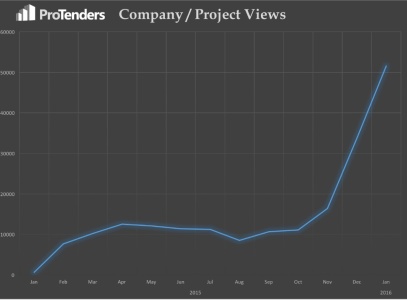 Project Intelligence: the evolution of our pioneering platform
Whereas traditional Project Intelligence platforms rely on information they collect by calling companies, ProTenders leverages the data insights it gains from multiple sources: our own research team, our network of partnerships and perhaps most importantly: the vast collection of data shared by our forward-facing community of development pioneers.
This information is combined, compiled and quality-checked to make sure we provide you with valid and accurate data throughout any project's construction lifecycle.
Here's a quick breakdown of the insights a typical project gives you:
Location:

Typically includes, plot number, maps, etc.

Facts:

Contains info on floors, height, style, etc.

Participants

: Includes their contacts in most cases

Pictures:

Images that provide context, scope and size of projects

Associated Products:

Coming soon….watch this space!

Timeline information:

Provides insights to project timelines and development.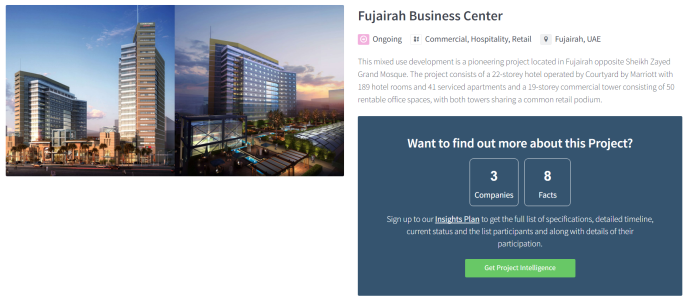 The power of search, right at your fingertips
All information is searchable, thanks to ProTenders' powerful data collation and convergence capacity. We make finding the ideal partnerships and collaboration opportunities a simple case of asking for what you want - and getting it.
No sifting through swathes of data in the hope of finding a flash in the pan; there's simply no time for it in this fast-moving industry we operate in. Find the projects that you want and turn opportunity into growth and profit!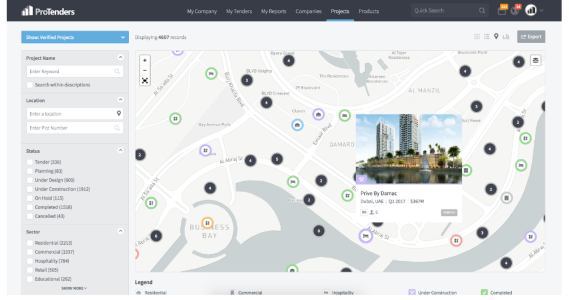 What do you do once you've found the right projects?
You can make a request to participate and send potential collaborators your profile so that they can include you in any subsequent tenders. Basically, once you find the ideal opportunity, it's up to you to ensure a completed profile, that contains all pertinent info on your business, does the job to make the right impression on prospects.
To celebrate the launch of ProTenders Project Intelligence, we're offering it at a special discount to commensurate with the upcoming 2016 Cityscape Global Event. Sign up now and receive an exclusive 30% discount on our platform kick your business development into higher gear.